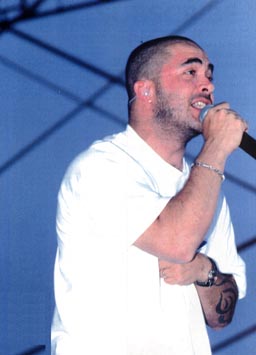 It's about 3 in the afternoon and the members of Staind are preparing for their appearance on the Tonight Show with Jay Leno. "It's pretty crazy," says guitarist Mike Mushok. "I never would've thought we'd be here..." Frontman Aaron Lewis adds, "It's definitely a trip."
For this evening's show, the band – Lewis, Mushok, bassist Johnny April, and drum­mer Jon Wysocki – will play their mega-hit, "It's Been a While," which currently sits atop Billboard's Modern and Mainstream Rock charts. The group's acoustic recording of "Outside," which appears on The Family Values Tour 1999 and was itself a #1 hit, is still all over the radio, making for a powerful one-two punch and signaling that Staind has reached that next level or Rock and Roll stardom.
"You just gave me goose bumps actually," admits Mike when I tell him that his group has the #1 track on two charts.
"Honest to God, I try not to think about it," he adds. "It's almost really too hard to fathom. I'm going to make a point to get a copy of the chart and get it framed. It's crazy – and the thing is it happened in only, like, three weeks. I just hope people don't get sick of the song before we release the CD (laughs)."
While the chart and airway domination of "It's Been A While" may seem like it's happened in a mere matter of weeks, Staind is by no means an overnight success. The hard-working Springfield, MA band diligently toured the Northeast with other like-minded acts and managed to sell over 4000 copies of their self-released debut CD, Tormented, before chancing upon their big break. They were "discovered" by Fred Durst back in October of 1997 when Staind opened for Limp Bizkit at a gig in Hartford. Things didn't start on a good note as Durst tried to get Staind thrown off of the bill when he misconstrued the cover art of Tormented as being "Satanic." After seeing the group's live show, however, Fred was solidly in Staind's corer. He heard a demo of some of their newer material, invited them to his home in Jacksonville, and helped get the band signed to Flip Records. 1999's Dysfunction saw Staind break into the big time ranks of hard rock, playing shows with Kid Rock, the Family Values tour with Korn and Limp Bizkit, and recently going on the road with Godsmack.
With the massive suc­cess of "It's Been A While," it seems likely that Staind will finally outgrow the perception of the band being "Limp Bizkit's protégée." "It's just kinda a drag sometimes," says Aaron in a sleepy, slow drawl that lets you know just how much of a drag. "Haven't we kinda accomplished enough ourselves? But, all love and respect in the world to Fred, and Lethal, and Sam and Wes and John..."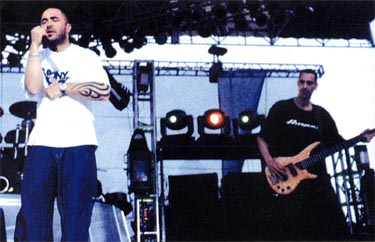 Any band or artist that benefits from the helping hand of an already-established act initially gets linked with that act – Limp Bizkit themselves were inexorably tied to Korn when they first broke – but it's clear the members of Staind are eager to be taken on their own considerable merits. "I don't think Limp Bizkit's tag [connection to Korn] held on as long as ours has," says Mushok. "Fred did, and still does, so much for us. He directed the new video and I think he did an amazing job. He definitely has advice for us and, the thing is, look at what him and they've done for themselves – it'd be almost stupid not to listen to advice from a person like that," Mike laughs. "If you surround yourself with people who are successful and know what's going on, hopefully a little will rub off on you. They've been great to us and Fred's been great to us but we went and did this record on our own."
For their sophomore major-label release, Staind wanted to move forward and challenge themselves and their listeners musically. But, after touring incessantly since the release of Dysfunction, they were less prepared then they might have liked. "The last time we went in and recorded, we were really ready to record: all the songs were done, the lyrics were done, everything was done," says Aaron. "This time when we went into the studio, the music was done but I had nothing lyrically. And so, along comes the song 'Pressure.' I think it all kinda worked out all right. Procrastinating until the very last minute – it is the best way to do things," he laughs.
"There was huge pressure," adds Mike. "We had done really well on the first record and being on the road for like a year and a half we never had a chance to really rehearse any new material. I was just kinda overwhelmed by the fact that we really had to write a great record – better than Dysfunction, which I really thought was a good record – we kinda had to surpass that."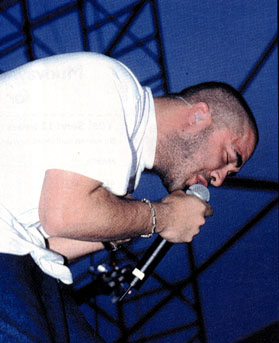 And what are the influences that they draw upon when writing a new, great record? Sabbath? Zeppelin? Metallica? "When I was a kid, I was really into what my parents were listening to which was folk music – James Taylor, Jim Croce, CSN, Harry Chapin," explains Mike. "I played acoustic guitar for six years before I even owned an electric guitar. I started when I was six. Then I heard Led Zeppelin and Van Halen and I was like 'Oh My God! I've gotta be able to do that!'" Aaron agrees, saying, "I was also around a lot of Folk stuff: James Taylor, CSN, Gordon Lightfoot, Kenny Rankin, Cat Stevens. I've always been very appreciative of songwriters – artists that just write amazing songs."
Having been weaned on at least as much Sweet Baby James as Diamond Dave, it's not surprising that the boys in Staind tend to manage a little more musical complexity and lyrical subtlety than the majority of the aggro-metal-jock-rap crowd. But, just because "Outside" and "It's Been a While" are a little more laidback, a little quieter than your standard metal fare, don't write Staind off as a "ballad band." "The thing is," warns Mike, "there's other songs that are gonna come out that aren't ballads at all so... This music comes from us as a group and if somebody wants to label it as a ballad then that's their choice. Y'know – if it's a good song, it's a good song. It reminds me of Extreme back when they did 'More than Words,' although we're heavier than they ever were, obviously."
"Anybody who thinks we're a 'ballad band' – when they go and see us live, I don't know if they're gonna be able to take it," Aaron says. "These last two singles are not representative of what you'd expect of us but it's still us, I still wrote those songs. I just want to make sure we never get pigeonholed as being heavy or mellow – we can tear it up or we can make you cry."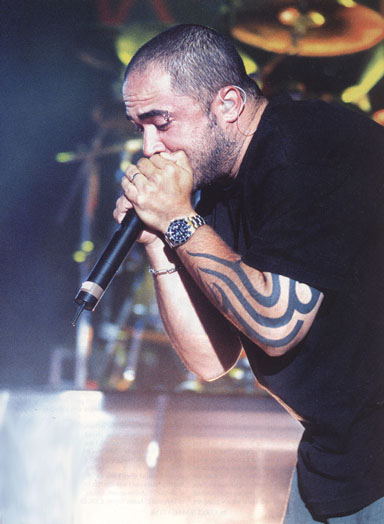 While finishing up Break the Cycle, Staind chose to go out on tour as the supporting act for Godsmack and use the opportunity to stay connected with fans as well as try out some of the new material. "We used to play together before either one of us had a record deal," Aaron recalls. "We had a blast touring with them. We played a few songs off of the new album – 'It's Been a While' and 'Open Your Eyes' – and the crowd response was great."
"We had a great time with those guys," agrees Mike. "They had opened for us once and we played before them on the Warped Tour so we did have a little bit of history with them. It was great to preview our record before it came out. We had just finished Break the Cycle and thought it made a whole lot of sense."
The crowd response was encouraging and the band enjoyed hitting the road with friends and fellow New Englanders, Godsmack, but the band was impatient to release the new CD. "We had been on the road for so long, those last few shows we were counting down like, Thirty songs left before we're home!' We'd do a countdown every day," says Mushok. "It was getting harder to play those older songs, we'd been doing them for so long. Thankfully, that feeling has left because the new record's done and now it's really fun to play songs off of Dysfunction again."
To support the newly-released Break the Cycle, Staind will spend the summer and the majority of 2001 touring extensively. "I think we're on tour for the rest of our lives," laughs Mike. "Throughout the summer we're playing these radio festival type things with headlining dates in between. We're looking to do a headlining tour in July and then Europe in August." Aaron chimes in, "We don't stop until probably around Christmas."
Staind and Godsmack were recently reunited at the 2001 Boston Music Awards, where both bands were frequently nominated in the same categories. While Godsmack were the evening's big winners, Staind did walk away with the award for Video of the Year ("Home"). "It was really, really cool," says Aaron. "I was up for a few things against Sully and Sully won and, while he was accepting, he said that somebody had made a mistake and that Aaron should've gotten this award. I thought that was pretty damn cool." Cool and, based on the early response to Break the Cycle, prophetic.