Staind, the heavy band with the acoustic heart, triumphs on MTV's Unplugged.
By Richard Bienstock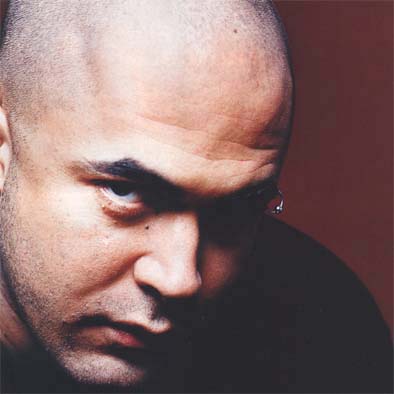 "We've always said that if we ever got the chance, Unplugged is definitely something this band could do," says Staind frontman Aaron Lewis. Fortunately for Lewis, the onetime MTV staple has just been resurrected after a two-year break [see accompanying story], and one of the first bands they called on to appear was Staind. Unfortunately, things didn't go quite as planned when it came time to roll film.
"Aaron was so sick he could barely sing," says guitarist Mike Mushok. "Plus, our new record was about to be released, so we were starting two weeks of heavy promotion, gigs and radio shows. We never even had a chance to fully rehearse for Unplugged—the day of the taping, we got together in this little back room at MTV, ran through the songs twice, and that was it. Then on Top of everything, the R.E.M. set that was being filmed before us ran late, and we didn't start shooting until almost one in the morning. So the whole thing just wasn't right. Eventually, we asked MTV if we could re-shoot our performance, and they were nice enough to oblige.
"Of course," Mushok adds with a laugh, "the fact that our album wound up debuting on Billboard at number one probably helped."
The outstanding opening week sales of Break the Cycle (Flip Records/Elektra), Staind's second major-label release, did more for the hard rockers than just impress MTV executives. They went from being merely another face in the heavy metal crowd to sitting on top of the rock world. Quite an impressive feat for a band that started out in 1995 playing cover songs in small clubs around their hometown of Springfield, Massachusetts.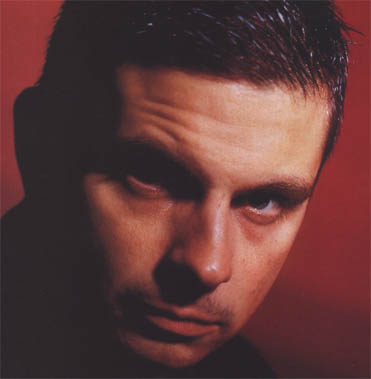 In hindsight, though, Staind's rise from moderate success to superstar status is not that surprising. This is one band that, despite being categorized, along with acts like Korn and Limp Bizkit, as "new metal," has always been about more than just angst and aggression. It just took a little time—and an unlikely acoustic hit—for people to notice.
One of the first people who did notice, as a matter of fact, was Limp Bizkit frontman Fred Durst. In 1997, Staind performed as a local opening act at a Bizkit show, and Durst was instantly attracted to the band, particularly their ability to weave melody into their thick, distorted sound. He helped Staind land a recording contract with Flip Records/Elektra and then produced their 1999 debut, Dysfunction.
Anchored by the rock-solid, pummeling rhythm section of drummer Jon Wysocki and bassist Johnny April, the album showcased Mushok's sludgy, detuned guitar riffs and Lewis' darkly introspective, lyrics. The few lighter moments, most notably the track "Home," revealed a guitarist capable of writing beautiful, inventive melodies and a singer who possessed a rich, deep baritone voice and an impressively wide vocal range.
Dysfunction yielded a minor radio and MTV hit in the propulsive, rumbling "Mudshovel," and Staind spent the next year and a half on a seemingly endless string of tours, slowly building a following. But the song that changed everything for the band was, ironically, one they hadn't even gotten around to recording in a studio.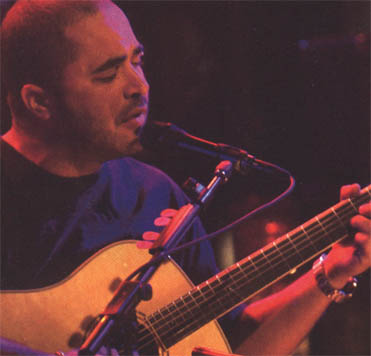 In 1999, Staind were once again opening for Limp Bizkit, this time as a support act on the Family Values tour. At one of the gigs, in Biloxi, Mississippi, Fred Durst suggested to Lewis that he attempt a song called "Outside" which the two had fooled around with in the past. Playing solo was, in fact, nothing new to Lewis, who in the early days of the band had gigged regularly as an solo acoustic performer. So it was that, armed with only a Gibson CL-40 acoustic guitar and with Durst singing backup vocals, Lewis took the stage in Biloxi and delivered the brooding acoustic ballad. Amazingly, the song hadn't even been completed at that point—Lewis ad-libbed most of the lyrics, which, except for the chorus refrain, didn't yet exist. When a CD documenting the tour was released last year, Lewis' performance—the only time he played "Outside" on the tour—was tacked onto the album as a bonus track.
"When we got home to Massachusetts," recalls Mushok, "'Outside' was being played on the radio virtually nonstop. No stations outside of New England had really picked up on it yet, but every time you got in your car and turned on the radio around here, it was on. So we realized that the song could be a hit."
The song was, in fact, a huge hit, receiving constant airplay on radio across the country and going into heavy rotation on MTV. Perhaps just as importantly, says Mushok, it taught Staind something about themselves. "It showed us that our more melodic side -the Aaron side - is a huge strength of this band, and one we needed to continue to develop."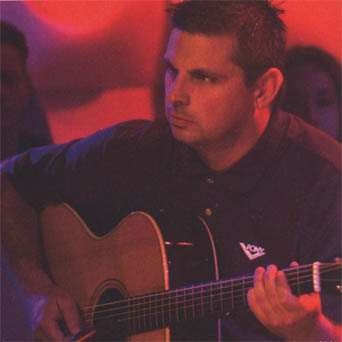 Staind put Lewis' melodic and acoustic sensibilities to greater use on Break the Cycle. The album also shows a stronger focus on songcraft in general, a fact that is particularly evident on the first single, the power ballad "It's Been Awhile." Also included on the disc is a revamped, full-band version of "Outside," as well as another Lewis solo acoustic tune, "Epiphany."
"If there's one word that we were all thinking about when we were creating the album, it was 'melody,'" says Mushok. "Our goal with Break the Cycle was to create something that was really musical, because I'd like to think that a good song will always be recognized by people, whether the year is 1980, 1990 or 2000. A good song is always a good song."
Unplugged gave Staind the chance to show that they do, indeed, have good songs. Performing their famous acoustic hits along with interesting reworkings of some of their heavier material, they successfully demonstrated their versatility as a band and particular affinity for acoustic music. Lewis played solid rhythm throughout, with extra backup provided by Cold guitarist Terry Balsamo. Mushok, who primarily plays a baritone electric on the band's studio recordings, obtained a baritone acoustic for the performance and, using a variety of tunings, created beautiful countermelodies.
"The great thing about Unplugged is that it gives our fans the chance to take a different look at some of our songs," says Mushok. "And overall I think it came out really well. I was happy with the way we played. If nothing else, at least I know it was better than the first time we did it!"
guitar world acoustic: The set list for your Unplugged performance was largely culled from the new album.
mike mushok: We just tried to choose the songs that we felt translated best to an acoustic format. And that turned out to be more of the new tunes.
aaron lewis: But then we also did stuff like "Can't Believe," which is probably one of the heaviest songs on the new record. On the studio version, I basically scream through the verses.
mushok: We were just kinda joking around the first time we practiced that for the show. I was messing around with the riff and Aaron started singing the words really melodically, and we were like, "That's pretty cool." So we played it a couple times and we thought, Wow, this could work. It's just a totally different twist on the song. 1 like the way it came out.
gwa: What guitars did you use for the per­formance?
lewis: Mike and I both used Alvarez-Yairis. I have two DY-84's and a DY-200. Those instruments just sound unbelievable. mushok: I used a baritone acoustic, which we discovered that Alvarez actually makes. We contacted our guy at the company and he got me one. Unfortunately, it was the only one they had, and it wasn't a cutaway. Since I do a lot of things high up on the neck, I asked them to build me one, but it's still not finished. I don't even think they've ever made a cutaway baritone guitar before—this'll be the only one in existence, and they have to completely redesign all the bracings and everything. So we went to do Unplugged and I only had the one guitar, which I needed to play in four different tun­ings. It was a good thing the show was taped, because the delays gave me time to stop and retune when necessary.
gwa: What are some of the tunings you use?
mushok: For most of the songs I'm tuned to [low to high] Ab Db Ab Db Gb Bb. The song "Can't Believe" is in B E A D G B—standard for a baritone guitar—tuned down a half step. Some of the others I use are A E B D G B and A A E D G B, both also tuned down a half step.
gwa: Sound-wise, how did you compensate for the muddiness and loss of definition that results when you hit those really low notes on the baritone?
mushok: I had to do some different voicings on some chords, and things like that. But that baritone guitar was really great. In the past I've tried just putting heavier gauge strings on a regular acoustic, but it really didn't work. But with this guitar, I don't even know what the scale length is or really what's so different about it, but it just sounds great.
gwa: The Unplugged taping marked the first time I heard many of the new songs, and in my view the performances didn't sound like electric songs that had been squeezed into an acoustic format. The arrangements were somehow "natural."
mushok: It's great to hear it didn't sound "squeezed," because the truth is that's kinda what we did! But that was something I definitely wanted to avoid—I didn't want the songs to sound like we were just playing the exact same thing we usually do, except with acoustics. 1 think that changing around some parts, and having Terry pro­vide some extra guitar layers on some of the songs, gave everything a little something different.
gwa: The new album has a more acoustic element to it than Dysfunction.
lewis: Well, that's just because, music-wise, I was able to bring a couple of songs to the table this time, whereas on the last record Mike wrote all the music. And the acoustic guitar is what I use to write. I've never even owned an electric.
gwa: How much of an acoustic player are you, Mike?
mushok: Well, I've been playing guitar since I was six, and I didn't even own an electric until I was about 12 or 13. So I played acoustic for years. But then when I did pick up an electric, that was it—I even studied under [shred guitarist] Tony MacAlpine for a while. But even though electric is my main thing, I actually have an old Guild acoustic that I pick up on occasion. And when I was in college I worked for Ovation for a year, so I got one of their guitars out of that.
But the acoustic guitar is what got me into playing, and it was the reason I wanted to play. My uncle was a really good singer and player, and my parents listened to a lot of folk music, so that's what I knew and that's what I liked.
gwa: Which artists, specifically?
mushok: Well, it's funny, because even though we write very differently, it turns out that Aaron and I actually have a lot of the same influences—Harry Chapin, Jim Croce, James Taylor, stuff like that.
gwa: Seeing as how you also studied with MacAlpine, were you a big shredder at one time?
mushok: Oh yeah. I think I really got away from that in college, though. I got bored with it after awhile—I mean, unless you're another guitar player, who wants to hear that? Although there are guys, of course, who are very musical in that field. But I just didn't want to do it anymore.
gwa: How did you wind up playing with Aaron, who was doing solo acoustic gigs at the time you met?
mushok: We both just wanted to write songs—good, heavy and aggressive songs. So that's what Staind was for. But Aaron kept on with the acoustic thing on the side for a while.
gwa: Aaron, for a guy who's obviously into heavy music, how is it that you were attracted to the acoustic guitar?
lewis: I always loved its purity, and the beautiful, direct sound it creates without the need for amplification or anything like that.
gwa: What kind of material were you playing at those acoustic shows?
lewis: Oh, everything from James Taylor and Cat Stevens to stuff like Alice in Chains—I even did an acoustic version of Black Sabbath's "War Pigs."
gwa: Was "Outside" a part of your set?
lewis: Yeah, that's a song that had been kicking around in my acoustic set for a while. That song came together with an assist from Fred Durst. Right before Staind was signed, Fred invited us to stay at his place in Jacksonville, Florida. One night we went out bowling until about three in the morning, and then we went back to his place and started messing around in his jam room. I began singing the words that would become the chorus of "Outside" over a riff he was playing. The lyrics stuck with me, and I eventually structured chords to fit around them. For years I would just ad-lib the rest of the lyrics, which is what I'm doing on the live version from the Family Values Tour 3999 CD. That was the last time I ad-libbed them.
gwa: Was a full-band version of "Outside" always slated to be included on Break the Cycle, or was it added after Aaron's solo rendition became so popular?
mushok: Actually, "Outside" was almost on Dysfunction; it just never came together, and then fell by the wayside. But we always knew it would be recorded at some point. Looking back, I'm glad it never made it to the first record, because look at what it's done for us.
gwa: The week Break the Cycle was released, it sold more than 700,000 copies. How did you react to this?
mushok: It was an incredible feeling. I was brought to tears, just completely overwhelmed. I mean, the fact that it was number one was one thing. But it sold so many records...
lewis: I was just like, "That's crazy!"
gwa: 700,000 copies in one week—that's practically boy-band numbers!
mushok: Well, not quite. Maybe if you add another million, [laughs] But the fact that it had a bigger opening week than albums from acts like Destiny's Child and Janet Jackson was really weird. I mean, I remem­ber the week that the Destiny's album came out, and you couldn't turn on the TV or open up a magazine without seeing them— they were everywhere. And we're not like that, you know? So it makes me feel good to know that we must have sold those records purely on the strength of the music.