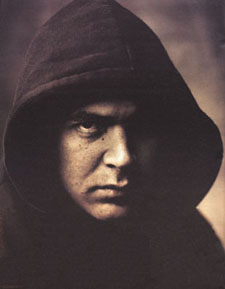 Aaron Lewis' fingers fumble around a small glass ashtray cluttered with Newport butts until he grabs the inch-long remainder of an extinguished joint. In the grip of the Staind singer, such a find rarely goes unsmoked, but this one stays cold and dead. Lewis - his five o'clock shadow nearly as long as the prickly black stubble on his shaved head - is slouched on the black leather bench in the front of his tour bus, fidgeting distractedly with the crumpled roach. With his other hand, he twists the small silver ring piercing his left eyebrow and then buries his head in the crook of his arm, his gaze directed no place in particular - at the floor, at the ceiling, anywhere safe from eye contact. For a full minute, he is perfectly silent.
A typical conversation with Lewis is filled with such silences - awkward, drawn-out moments when the twenty-nine-year-old lingers in contemplation. When he does speak, Lewis goes slowly, sounding exhausted by the endeavor of choosing words. His voice, a soft baritone, is punctuated by the hint of a lisp, and his train of thought often derails as he works his way through his sentences. "I'm not a very good conversationalist," he admits.
Staind are due onstage at the Polaris Amphitheater in Columbus, Ohio, in less than an hour. The concert, a radio festival thrown by local station WBZX, is only the band's third show since learning that its new album, Break the Cycle, sold more than 700,000 copies in its first week, knocking Tool out of the Number One spot on the album charts. Guitarist Mike Mushok was at a mall in Norfolk, Virginia, when Elektra Records head Sylvia Rhone called him with the news. "I started crying," he remembers. "I could cry right now, because I can't even believe it." Mushok immediately called Lewis, who was out on the links with drummer Jon Wysocki, a devoted golfer. Later that day, all three went out and bought themselves Rolexes to celebrate.
Yet the success of Break the Cycle - an album of dark rants and brutally confessional ballads - has Lewis baffled. "All I did was be extremely honest with myself and put it in songs, and here I am," he says after one of his long pauses. "Never in my music have I pretended that things were all right. I might have done that in life, just to get through. But in my songs, I've always been very candid and straightforward with what I had to say."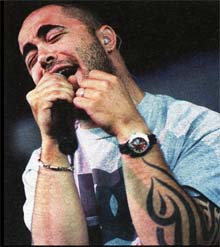 That candor has earned Lewis adulation that extends beyond typical fan behavior, and the band's most ardent followers treat the singer's words like the proclamation from the burning bush. In April, a month before Break the Cycle came out, Lewis was stopped by one such fan at a show in Ypsilanti, Michigan. "A kid came up to me in the parking lot who had a full-blown portrait of me tattooed on his arm," he says with disbelief. The portrait was so detailed, it included the watch Lewis always wears, a gift from his friend Kid Rock. The fan's tattoo collection also included the word tormented, the title of the band's 1996 debut, inked in red on his back, and everything falls apart, a line from Staind's previous album, Dysfunction, on his forearm. By the time the band rolled back through Detroit in early June, the fan - also named Aaron - had added two more Staind-related tats. While hovering around the catering table, Lewis gave the kid his watch - a gesture that spoke the volumes Lewis couldn't otherwise articulate. "It's really hard for me to talk to fans now," Lewis says. "It feels like they're teetering on every word I say."
He calls the attention "unnerving," but it's something he's had to get used to. He tells two stories that particularly haunt him: After a show at Detroit's St. Andrews Hall last year, a woman knocked on the door of Staind's bus and asked to speak with Lewis. She had recently lost her son to suicide, and he had left behind tickets for that night's show. Overwhelmed, the singer remained secluded on the bus. "It made me feel like she wanted me to give her answers for it," he says. "I did get a little angry, but I was angry at everything - angry that he killed himself and angry that so many kids feel that's the only way out." Lewis later wrote Break the Cycle's "Waste" in reaction to the boy's death: "I've had doubts/I have failed/I've fucked up/I've had plans/Doesn't mean I should take my life with my own hands."
And then, just a few months ago, Lewis says, a boy in Peoria, Illinois, felt that Lewis' words so perfectly summed up his misery that he hanged himself as a tape of his voice singing Staind's "Outside" ran on a continuous loop. "It's a heavy weight on my shoulders," Lewis says. "It's strange to be put on a pedestal."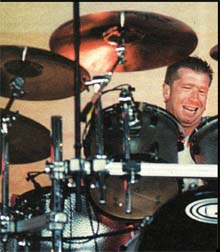 However reluctantly, Staind - Lewis, Mushok, Wysocki and bassist Johnny April - have landed prime pedestal real estate among disaffected teens, for whom the band's melancholy hard rock says all the things they're aching to hear. Lewis' songs draw from a traumatic childhood during which he felt ignored by his parents and alienated from his peers, and the lyrics often convey feelings of self-loathing and deep loneliness. "If you want to call our music dark, that's fine," Lewis says. "I'm calling it reality-based. I'm not making anything darker than it is already." He sees his songs as mutual therapy for the fans and for himself. His lyrics tell kids that they're not the only ones who feel like losers: "It's been a while since I could hold my head up high" (from "It's Been Awhile"); "I'm on the outside, I'm looking in" (from "Outside"). "Saying what I feel is true and talking about it," he says, "that's the only difference between me and them."
Except for an eight-week hiatus last fall to record Break the Cycle, Lewis and his band mates have spent the past two years on the road. Outings with Limp Bizkit, Korn, Kid Rock and Godsmack have helped them slowly push sales of the two-year-old Dysfunction to more than 1 million. And in the weeks before Break the Cycle was released, the band had not one but two songs in the Top Forty: a live, acoustic version of "Outside," from the Family Values Tour 1999 album (a duet with Limp Bizkit's Fred Durst), and a new single, "It's Been Awhile." Within two weeks of its release, Break the Cycle had also gone platinum.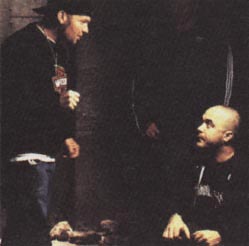 Staind got their first break in 1998 when Durst signed the band to his Flip Records. That association has linked the group with "new metal," though Break the Cycle's sound is neither particularly new nor metal. The band doesn't rap, and though Mushok has adopted new-metal's minor-key guitar riffs, Lewis' dramatic voice and the anthemic quality of such songs as "Open Your Eyes" and "Fade" are more akin to Alice in Chains than to Korn. Aggressive yet reflective, Break the Cycle doesn't require a poisonous abundance of testosterone to be appreciated and is better suited to solitary listening than to the mosh pit. It's this vulnerable, contemplative mood that gives the band's live show its power. In Columbus, Staind perform in front of a simple white backdrop, illuminated by purple and green lights. Though Mushok, April and Wysocki do their share of thrashing around, Lewis trudges back and forth on the stage at an almost glacial pace. He keeps his head down, his eyes half-shut and one arm folded across his stomach, his body language communicating anguish. Between songs, he rarely speaks. "The way I look at it," he says, "I say every possible thing I could want or need to say in the songs."
Strange but true: Aaron Lewis enjoys fishing and hunting. "If there was no hunting season, deer would overpopulate and starve," he opines. "It would just cause a collapse of the ecosystem." Lewis, who first went hunting with his father and grandfather in Vermont when he was seven, says he has never killed anything he didn't eat. Smiling slyly, he declares, "Like Ted [Nugent] says, 'If you're gonna kill it, grill it.'" Lewis owns an assortment of rifles - more than ten, between him and his dad - and he's a member of the National Rifle Association. "I don't think the key to wiping out inner-city violence is to ban guns," he says, taking an uncharacteristically authoritative tone. "Criminals are always gonna be able to get guns; it's gonna be the law-abiding citizens who can't. That's the most ass-backward way to fix a problem I've ever heard." In his lyrics, Lewis bares his soul with unmitigated honesty, calling himself "ugly," "pathetic" and "fucked up." But when a conversation turns personal, he keeps his guard up. "All the things that I've talked about in our songs are very personal and real," he says. "It helps just to actually have people listen."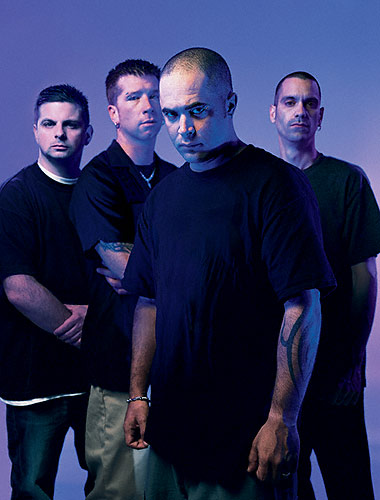 The singer was born in Springfield, Vermont, to hippie parents, Ted and Sondra. Their house, a log cabin whose front yard was littered with pot plants, sat on the side of a mountain adjacent to a dirt road too precarious to drive on during winter months. "They would have to drag me and the groceries up the hill on a sled," Lewis recalls. "And then we would sled down to the Volkswagen bus when it was time to leave." When he was very young, Lewis' parents played in a folk band, and he quickly became a fan of artists such as James Taylor, Harry Chapin, and Crosby, Stills and Nash.
By the time Lewis' family moved to New Hampshire in 1980, Ted and Sondra had separated and reunited more than once. The new surroundings didn't improve the relationship, and the couple split up a couple more times before moving to Springfield, Massachusetts, divorcing for good when Aaron was thirteen. "It was obvious that something between them wasn't right," he says. And then, sighing, he adds, "It almost seems like they never should have been together. My dad is very much like I am: laid back and kind of a procrastinator. I guess I'm a chip off the ol' block. My mom is the complete opposite."
After the divorce, Lewis' mother moved back to New Hampshire and Aaron remained in Massachusetts with Ted, a dental technician, and the younger of his two sisters. "Me and my mom had a big blowout when I was thirteen or fourteen," he says. "At the end, I basically told her not to call me and to stay the f**k out of my life. That lasted for three or four years."
Lewis' relationship with his father was less strained. Both love to fish, and they spent a lot of time on Otter Creek, which bordered his grandpa Corky's Vermont property. Ted and Aaron remain close - recently, Aaron took him on a fishing trip to Miami - and they talk on the phone frequently, even when Staind are on the road. But Ted acknowledges that, even as a child, Aaron must have been sensitive to the tension between his parents. "I felt like I gave him plenty of my time," Ted says. "But I think in the younger days, I'm not so sure we wanted to be married or even have children at that point. And Aaron probably felt that."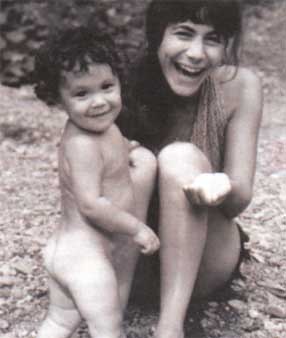 "There wasn't much of a safe home atmosphere," Aaron says. "There wasn't the feeling of a tight-knit family. My grandfather died, and his whole side of the family may as well have died with him, because we were basically disowned. To have half of my family disappear left me with a lot of abandonment issues." To compound matters, Lewis' childhood was marred by what he calls "a few bad people in the neighborhood" - older kids who "tended to pick me out. . . . They didn't just beat me up. It was a little more than that." He's cautious about adding more, but it is clear the experience left deep scars. Feelings of alienation, Lewis says, developed early.
It was only a couple of years ago that Aaron told his father about his childhood troubles. "I'm surprised that he didn't come to me when it was happening," Ted says. "I thought we had such a close relationship. But he held it in. That's probably where some of his anger came from."
"I was the sensitive kid," Lewis remembers, his voice tightening. "I was the kid who, if he got picked on, would run home crying. Even my friends - I would be the brunt of their jokes. People liked the reactions they got out of me. And I always gave them a reaction."
High school wasn't much kinder to Lewis. "My focus was complete lack of focus," he says. "Choir was the only thing I got A's in. I even failed gym, because I wouldn't change into gym clothes."
Lewis recalls that a sudden surge in popularity always seemed to come after he'd perform at a talent show or a battle of the bands: "That was the only time girls were interested in me." A sly smile pushes at the corners of his mouth. "When I look back, it's like, 'F**k all of you.' My ten-year reunion was last year. I was going to have the tour bus drop me off. But then I was like, 'F**k that.'"
It's an unusual treat for Staind to have two days off in a row, and Mushok is spending the first one at a Chicago White Sox home game with his old friend, Staind security guard Dave Mitchell. Their seats are spitting distance from Comiskey Park's first-base line - a view wasted on Mushok, who has little interest in sports. Back home in Springfield, Massachusetts, he says between slurps from his second cup of Miller Lite, his fiancee, Dawn, is celebrating her thirty-third birthday without him. "We've been engaged since last summer," he says. "After this tour is over, I really need to start planning the wedding."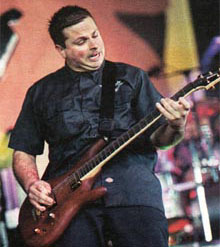 Unlike Staind's brooding singer, Mushok is relaxed and chatty. A self-professed neat freak, he keeps his short hair gelled into perfect little spikes, and his broad face has a freshly scrubbed pinkish glow that deepens when he laughs. He rattles off anecdotes that go nowhere, with no punch lines, and then, realizing his poor comic timing, declares, "The end." With pride, he calls his parents - mom, an educator; dad, a builder - "really cool," and he's not even resentful that they pressured him into going to the University of Massachusetts (where he studied engineering) instead of letting him go to a music institute like he'd hoped.
The guitarist was raised in Springfield, where he still resides. He was an honor student in high school and says he was pretty popular, despite his tendency to hole up in his room alone with his guitar. "I would sleep through classes because I was up all night playing guitar," he says while riding home from the Sox game in the band's rented minivan. Mushok says he's always been a serial monogamist ("No one-night stands"), and he can count on one hand the number of times he's smoked pot.
Later that night, the band reconvenes in the lobby of Chicago's Omni Ambassador East before heading out to gorge at Lawry's Prime Rib. Wysocki has spent his afternoon playing golf, while April trolled antique shops looking for old bottles to bolster his 600-strong collection. "I'll give you 100 bucks if you can name an off day when we all hung out together," Wysocki challenges Mitchell at dinner. Tonight, Lewis is absent, having dashed off on a last-minute Miami fishing trip by himself. Even when Staind have a show, Lewis doesn't spend much time with the other three. Instead, he tends to remain sequestered with his wife of nearly three years, Vanessa, in the bus' back lounge. (That's Vanessa he's singing to in the video for "It's Been Awhile.")
Lewis met Mushok "hovering around the keg" at a 1993 Christmas party in Springfield. Lewis had been playing some acoustic gigs and was hoping to put a group together. Mushok was already a veteran of the local rock circuit and had tired of playing in bands that sounded like "two guys who solo a lot." He gave Lewis his phone number and then waited. And waited. Lewis had moved to Atlanta to attend goldsmith school, figuring that if music didn't work out he'd go into the jewelry business run by his mother's family.
While in Atlanta, Lewis worked part-time as a cook and started hanging out with two metalheads, Tim and Mitch, who turned him on to Pantera, Sepultura . . . the kind of heavy shit that Lewis had previously ignored in favor of Led Zeppelin, U2 and James Taylor. Eight months later, after completing the goldsmith program, Lewis returned to Springfield and eventually managed to get together with Mushok to jam. "I remember Aaron coming to my house for the first time and singing," Mushok says. "I said, 'Where have you been for fifteen years? I've been looking for you!'"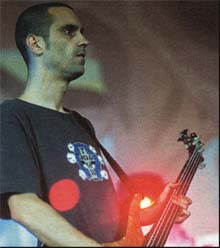 With fellow Springfielders Wysocki and April in tow, the band began gigging at local bars, playing songs by Stone Temple Pilots, Alice in Chains, Rage Against the Machine, Nirvana and Korn. "I just wanted to make a living playing my own music," Mushok says. "I wanted to be able to write a song and put it on in my car." By 1996, they had scraped together the $2,500 they needed to record Tormented. A year later, Staind were scheduled to open for Limp Bizkit in Hartford, Connecticut, but Durst was offended by Tormented's cover art - a bloody Bible and a crucified Barbie doll - and threatened to kick them off the bill. "That artwork depicted where I was at in my life," Lewis says. "I had lost faith in everything, from religion to love to life." Staind did play, and Durst was so awestruck that he took the band under his wing the way that Korn had taken Limp Bizkit under theirs.
Durst invited Staind down to his house in Jacksonville, Florida, to work on some songs. They returned shortly thereafter, driving nonstop for thirty hours from Massachusetts to Florida. As soon as they got there, Durst recorded Lewis playing an acoustic song called "Black Rain." It was on the merits of that song that Jordan Schur, president of Durst's label, Flip, signed the band. Durst co-produced Dysfunction with Terry Date, who'd worked with the Deftones, Soundgarden and Pantera. Durst also directed the videos for "Home" and "It's Been Awhile," and he featured Lewis in a cameo for Bizkit's "Break Stuff" video. "Fred's like our dad in the music business," Lewis says. "And Korn are like our grandparents. We will inevitably do the same for someone else."
The most important Durstian moment came during the Biloxi, Mississippi, stop on the 1999 Family Values Tour when the Bizkit singer insisted that Lewis debut an unfinished song called "Outside." To calm Lewis' nerves, Durst promised he'd sing the song with him. "It was the best insurance policy I could have for something I was just winging," says Lewis. A recording of that performance was tacked on to the end of the Family Values Tow 1999 album as a bonus track. Months later, when Staind were preparing to record Break the Cycle, "Outside" began to get radio airplay, and then never stopped getting it." Every twenty minutes it was on the radio," Lewis remembers. "We were like, 'What the fuck is going on?'"
The song has become a staple of the band's live set: At the Ypsilanti show, the crowd erupts in cheers the instant the spotlight reveals Lewis alone onstage with his acoustic guitar. "This song is dedicated to the memory of [Kid Rock sidekick] Joe C.," he says, drawing thunderous applause. As he begins strumming, the room is illuminated by the flicker of a thousand lighters, and girls scramble on top of their boyfriends' shoulders to get a better view. "Inside you're ugly, ugly like me/I can see through you, see to the real you," the throng sings at top volume, threatening to overwhelm Lewis' sturdy baritone. All over the auditorium, tears are rolling down young faces.
Vanessa Lewis is documenting Staind's tour with the Sony digital video camera she and Aaron bought in May. Every night, she tapes a portion of the group's show and takes shots of the audience going nuts in the mosh pit. In the band's Polaris Amphitheater dressing room in Columbus - a too-small lounge cluttered with wardrobe cases and an oversize refrigerator - Vanessa takes out her camera to show off some footage shot during Staind's performance at a Washington, D.C., radio festival. The twenty-six-year-old exudes an almost angelic warmth, and when she talks about her husband, it often seems like she might well up with happy tears. She sits rewinding the tape, her glittery black sneakers propped up on the coffee table where a new iridescent bong sits waiting to be used. "Sometimes," she muses, "I say to Aaron, 'Why couldn't you be a plumber or something normal?' " She doesn't mind being on the road, but she's having a hard time getting used to the band's financial suc­cess: "I never wanted a lot of money. Money changes people. I guess we'll see what happens. Aaron said, 'If we go to the Grammys ...,' and I was like, "I don't want to go to the Grammys! What will I say to those people?'"
She cues up the footage that she was looking for, "Those are pieces of floorboard," she says, pointing to the slabs of white plastic that kids are using to surf atop the 65,000-strong crowd. "Wait," she says excitedly. "You've got to see this part. Aaron curses out a guy in the audience for groping some girl. I loved that he did that."
"Parents, on the whole, have forgotten how to be parents," says Lewis. The desperation that Staind fans express, he believes, comes from parental neglect. He says kids grow up feeling that they don't have anyone to turn to. He addresses the topic in "Fade": "I just needed someone to talk to/You were just too busy with yourself."
The singer says that, for years, he struggled with serious depression and even considered suicide. "I've had a gun in my mouth," he says. "Just crying and wanting to do it, but not being able to for the thought of what it would do to the people I was going to leave behind. It took a hell of a lot more courage to not pull that trigger than it would have taken to pull it."
Marriage, maturity and a brief spell on a therapist's couch have helped Lewis to let go of some of his own anger. "I've learned that no matter how fucked up I might feel my life was growing up," he says, "my parents did the absolute best 'that they knew how." Now, he says, he's focused on taking responsibility for his own life, "My point of view has changed progressively from record to record," he says, explaining that the titles of the albums reflect his personal evolution. "If you dwell on how terrible your life has been, it will forever remain terrible."
His relationship with Vanessa has been a crucial part of that evolution. "She's an amazing person I can tell anything to," he says, "I've told her everything that's happened to me, and she hasn't felt any differently about me." She shares his concern with how parents relate to their kids and has clearly given great thought to how she and Lewis will approach the job of raising children. "Aaron's gonna be a great dad," she coos.
"I do think I'll be a good parent," Lewis adds, eating from a plate of pasta while his wife smokes a cigarette next to him, "Number one, because my wife is going to be an amazing parent, and 1 can take pointers from her. And also because I guess I've kind of bro­ken the cycle."