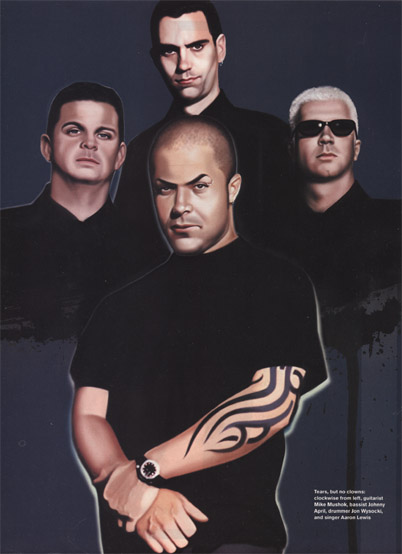 Fred Durst glimpsed the future, and it pissed him off. The Massachu­setts band Staind, whom Durst was considering signing to his Flip Records label, had just self-released their debut album, 1996's brutal Tormented. "What the fuck?" Durst thought, looking at the cover, which featured a knife penetrating a bloody Bible, and a Barbie doll nailed to a cross (inverted, of course).
So he found his way backstage at a Staind show in Hartford. He looked at the four unassuming guys in regulation-rocker black, looked again at the black-mass CD cover hi his hands, and shook his head at the contradiction. He made a beeline for bald and tattooed singer Aaron Lewis, waved the album cover in his face, and chucked it across the room.
"What the fuck is this?" Durst demanded.
Lewis just laughed nervously, perhaps slightly embarrassed. "Just watch our show," he promised.
Staind's ferocious live set that night more than assuaged Durst's doubts. Staind would later go on to become the sleeper hit of the Bizkit-led Family Values Tour—which is fitting, because it's precisely the issue of family that both Durst and Lewis fixate on, though each has a different idea of what the word implies. For Durst, maintaining a family means following a warped sense of etiquette, where tittie-flashing is in but satanic verses are verboten. For Lewis and Staind, family is just warped.
Like no other band hi recent memory, Staind weigh the fallout from the 40-year breakdown of the nuclear family. At a recent Montreal concert, the band's 13-song set reduced the domestic experience to the indelible senti­ment that hell is for children. Lewis articulated the pain of the loneliest sophomore at Pleasant Valley High, his tightly wound and melodic voice full of anguish, seeking solace in the protective shell of his songs. Guitarist Mike Mushok released torrents of noise and pulled back at precise moments that underlined the heartbreak of Lewis' words. Bassist Johnny April and drummer Jon Wysocki tossed off fiercely syncopated rhythms that bounced off the concrete walls of Montreal's 800-capacity Spectrum. Onstage, as on record, the band eschews the outgoing, hip-hop-inspired bravado of most Durst signings. Staind prefer to tunnel inward into the maw on wrenching songs like "Crawl," "Suffocate," and "Me." It was clear that Me is very, very angry.
"My lyrics aren't the happiest in the world," Lewis, 28, once told an interviewer. "A lot of really fucked-up things happened to me in my life, and I make sure I'm feeling that pain when I'm singing it." Lewis' parents split up several times when he was a kid, and his songs frequently allude to addiction. On Staind's massively popular new album, Break the Cycle, Lewis brings the pain without resorting to histrionics, and his band mates weave themselves throughout the songs with concise shifts and remark­ably sensitive dynamics. "It's Been Awhile" mixes nil-jack crunch with an introspection that Eddie Vedder shed years ago. In "Fade," Lewis repeats the achy-breaky line "I just needed someone to talk to," as the music swallows him up. On the surprisingly catchy "Open Your Eyes," Lewis even turns his typically self-involved gaze outward. What does he see? Streets filled with homeless crackheads. In a pointed juxtaposition, he rails against parents who don't care that then1 daughters are "porno stars" or that their sons "sell death."
Staind don't pander to their fans, and in return, their fans are willing to let their heroes deviate from the metal norm. Staind's first hit was the dolorous acoustic ballad "Outside," of which harder-edged rock radio stations couldn't get enough last year. When Lewis sang "All the tunes I've cried / All this wasted, it's all inside" onstage in Montreal, a deafen­ing chorus of kids decked out in Linkin Park, Bizkit, and Korn T-shirts sang along to every word. Just as in the video, Lewis sat center stage with an acoustic guitar. For five minutes, he could've been just another sad-eyed folkie with a fucked-up past. It was a telling moment, because ulti­mately, Staind's music sounds less like a metal crossover and more like a clean alloy forged from ugly influences. To make sure this was cool with the 800 members of his extended family who comprised the Montreal crowd, he ended the song by fishing for a little reassurance: "I hope you don't think we're a bunch of pussies for chilling out a bit."