MTV Unplugged DVD
Now that the DVD was finally released, I bring you two great gifts: "Suffer" from Unplugged and the original (and my favorite) "Mudshovel" music video. Get them here. But don't be a total leech and remember to support the band. Go out any buy the DVD for yourselves! It's worth it.
FTP Server
Downloads via FTP server will return soon! Check back for an address. Downloads on AIM will be disabled.
Unplugged DVD Released November 12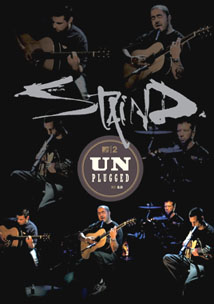 The MTV Unplugged DVD is a must-have collector's item for every Staind fan, as it captures the searing presence and emotional intensity that has made Staind one of the most provocative forces in rock. Filmed live at their legendary July 16, 2001 MTV Unplugged performance, the 11-song, 72-minute set includes rare acoustic versions of their classics "It's Been Awhile," "Outside," and "Home," among others, and two never-before-aired performances captured during the Unplugged taping. The DVD also includes backstage interview footage, as well as the original videos for Staind gems "Mudshovel," "Outside," "Epiphany," and "Fade," and rare behind-the-scenes footage from the "Fade" video shoot.

The MTV Unplugged DVD is the ultimate visual and aural companion piece from a band that - in the span of only three albums – has jettisoned the old rock rulebook, invigorating the genre and galvanizing both fans and critics around the world. Their much-anticipated fourth studio album is due out in the spring of 2003, capping an unprecedented era of success for the band that includes, among other numerous highlights, a #1 album (Staind's Break The Cycle achieved the highest rock debut of the year in 2001 with 716,000 units sold in the first week alone), and a 16-week #1 ride on Billboard's Modern Rock chart with "It's Been Awhile". Break The Cycle also became the global rock phenomenon of the year, debuting at #1 in the UK, and achieving gold and platinum status throughout Europe, selling 1.4 million units across the continent.

DVD Track Listing: Home, Me, Pressure, Excess Baggage, Suffer, Waste, Epiphany, It's Been Awhile, Can't Believe, Fade, Outside.

Check out these previews: Epiphany & It's Been Awhile
Family Values Tour Live CD
Want to hear more from Family Values 2002? Elektra Records will be releasing a CD May 7 with live performances from Staind, Stone Temple Pilots, Linkin Park, Static-X and Deadsy.

Here is a tentative track listing:

01 - Stone Temple Pilots - "Vasoline"
02 - Linkin Park - "Runaway"
03 - Staind - "Fade"
04 - Stone Temple Pilots ft. Chester Bennington - "Wonderful"
05 - Static-X ft. P. Exeter Blue - "Push It"
06 - Staind - "It's Been A While"
07 - Stone Temple Pilots - "Wicked Garden"
08 - Static-X - "Cold"
09 - Aaron Lewis - "Black"
10 - Stone Temple Pilots ft. Aaron Lewis - "Creep"
11 - Deadsy - "Tom Sawyer" (Rush Cover)
12 - Linkin Park ft. Aaron Lewis - "One Step Closer"
Featured Download
Featured downloads are files that you can download right off my website without having to go through AIM and Hotline. This week's feature is six songs from Staind's performance at the Bizarre Festival. click here
Stuff
Check out the Stuff page for the Staind-Matrix screensaver, in which the Matrix invades your computer and dishes out Staind lyrics.
Staind's Aaron Lewis Joins Linkin Park On 'Crawling' Remix

Staind singer Aaron Lewis will be heard on a new version of the Linkin Park single "Crawling" on the Southern California rap-rock band's upcoming remix album.

Lewis recorded harmonies for the song in Linkin Park's bus on the Family Values Tour last fall, Linkin Park DJ Joseph Hahn said Thursday. Hahn described the track, remixed by vocalist Mike Shinoda, as spacey and twice as long as the three-minute original.

Linkin Park are shooting for a May release date for the still-untitled album, which will feature remixes of the tracks on their debut, Hybrid Theory, the best-selling album of 2001... read more on MTV News.
Guitar Tabs
Check out the new Tabs page for Staind Online's new feature.
Submit any tabs of your own if you have any.
Infinity Update
taken from a Springfield fan....
Aaron Lewis and Chris Ballini were an unnamed duo. They regularly did acoustic shows at Geraldine's and Breakers, located in west Springfield. They were never known as "Infinity' or "Geckoes," but rather simply as "Aaron and Chris." The origin of "Infinity" comes from the club that the so-called "Infinity" songs were played at. When the guys split up, Aaron went to Staind, which started off doing covers. Ballini went to Facelift, which is today's biggest Alice in Chains tribute band, although it seems he is no longer with the group. Aaron thanks Ballini in the Dysfunction album insert.
Stone Temple Pilots "Creep" featuring Aaron Lewis
Get the file here.
Downloads
FTP, AIM, and Hotline enabled.
American Music Awards
Staind loses "Favorite Artist - Alternative Music" award to Limp Bizkit.
Grammy Awards
If awards extended beyond creating a vain sense of self-importance, self-praise, whoopla over nothing, then Staind received no nominations for the Grammy Awards.
Stuff Page
Icons, wallpapers, and screensavers coming soon. The new section is also a place for a collection of fan stuff - anything you guys want to share. So if you would like to have anything you want others to see and download, email it. We need your help to build up the page!
New Version 3
This new layout went online January 4, 2002.