Site Related Questions
1. What programs do you use?
Microsoft FrontPage 2002, Adobe Photoshop 6, Adobe Premiere 6, Macromedia Flash 5, VirtualDub, ATI TV, Cyberlink PowerVCR II, Creative Wave Studio, MP3 Workshop, Notepad, and other various programs.
2. What equipment do you use?
The main computer is a PC operating Microsoft Windows XP Professional running on AMD Athlon XP 2100+, 768MB DDR RAM, 140GB hard drive space with RAID, GeForce2 MX400 64MB video card, Creative SoundBlaster Live sound card, ATI TV Wonder video capture card, and digital speakers. Other equipment used include Hi-Fi VCR, color scanner, and another PC.
3. Who does all the work?
My brother does all the Flash animation. I do everything else.
4. How did you make the Flash intro?
It was created using actual footage of the guys performing. It took one week to make.
5. When did this website go up?
August 2001
6. How long did it take to make this website?
Version 1 took a few days and lasted only two weeks. Version 2 took four weeks to make and was running from September to December 2001. Version 3 took two weeks to make and went up in January 2002.
7. Are you interested in having affiliates for this website?
Maybe, if enough webmasters are interested affiliating, particularly owners of websites on other bands. Email if interested.
8. Can I send in pictures, artwork, or anything else I would like to share?
Of course, please do. Any of your own pictures or your own work will be posted in the Stuff area that is being built up.
9. How is this website hosted?
The domain name is registered through directNIC.com. Web hosting is through ipowerweb.com. Services are paid for by the contributions of donators and by me. Donations pay for half of the cost of running this site, and the other half is paid out of my own pocket.
10. Do the band members know about this website? Have they seen it?
I don't know unless they email me.
11. Contact information?
Email: webmaster@staind-online.com
AIM: staindcoldprison
---
About The Webmaster
1. What's your name? How old are you?
Phil. 19.
2. Where do you live?
La Jolla (San Diego), California.
3. What school do you go to?
Second-year student at University of California, San Diego (UCSD).
4. What are you studying?
My major is Biochemistry and Cell Biology, minor in Economics, and I'm doing pre-med.
5. Why did you make this website?
I am a fan and I was bored over the summer, so I needed something to do.
6. How many times have you seen Staind perform?
Three...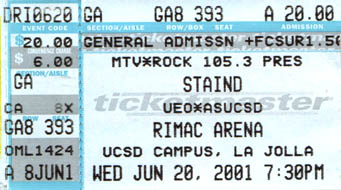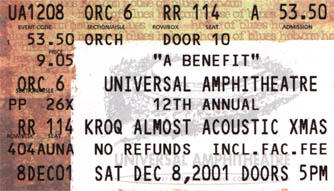 7. Have you met the band?
No, not yet.
8. Do you have connections to the band?
No, not yet.
---
Download Information
1. How do I get files?
Go to the Downloads page and read the instructions.
2. What connection do you have?
Cable.
3. It doesn't work. I can't connect. What's wrong?
I don't know. Other people aren't having problems, but some people do.
4. It's so slow? What's wrong?
Speed depends on the connection. Some people on cable or DSL get really fast downloads while some get slow downloads. There isn't' anything that can be done about that.
5. Are you connected to Morpheus, Kazaa, or something similar?
Nope.