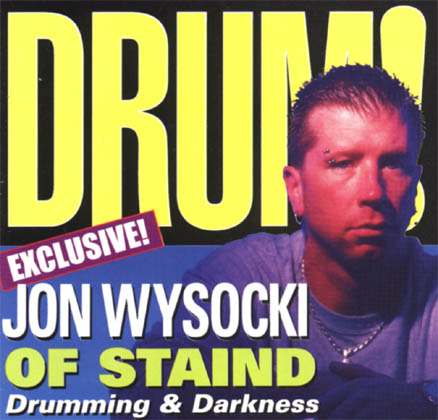 August 2001
By Jared Cobb
Photography by Eddie Maluk
---
How many times have you listened to the drumming on the latest hit CD and thought, "I can play this. In fact, I can play better than this. Why aren't I the latest rock craze? What makes this guy so special?" Do not fret people. It's a question we all ask and a phenomenon we all ponder: If the music requires only "basic" rock drumming, what separates those drummers who are, headlining a world tour from those who never leave their basement?
"I've asked that question myself with other drummers. And I'm sure there are people who could smoke my ass and could be doing what I'm doing. But it's not a one-man show," reveals Jon Wysocki, the 30-year-old drummer for Staind. He's driving through the streets of Springfield, Massachusetts on his way to the local tattoo shop to get some fresh ink done before continuing the headlining tour in support of Staind's smash sophomore album, Break the Cycle. His New England accent clashes with his rock and roll dialect and boyish charm, sounding like some bizarre mix of Will Hunting, Kid Rock, and Barney Rubble…
So you want to know, why Wysocki? Well here it is: "I like to work as a team player. Rather than overplay and try to outdo other members of the band, I try to work for the song. Also, it's finding the right guys and working as a unit and creating songs as a band rather than trying to be this virtuoso and out­playing everyone. It's not like that. It's not a competition. You need to be a team player. Really, that's what it is. It's a package deal. And you have to work as a team. You have to be on the same page and want to do the same things."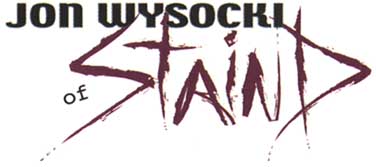 And let's not allow our jealousy catapult Wysocki into the bottomless pit of the ordinary. On the contrary, Wysocki is a crisp basher with more groove than Aquatred. His work on the new album screams versatility, subtlety, feel, and hot pocket. Keeping heavy drums clean is more difficult than keeping Dubya in peacetime, and Wysocki pulls it off with lunar consistency.
"If you can lock down a solid groove and tastefully throw in fills in the right places then you're doing your job correctly. My drumming style is basically groove oriented. I wouldn't say I'm a huge technician as far as chops go. I'm not out to prove myself. I never really liked the way some drummers overplay a song and I always thought they were just overdoing it. When I first started writing with a band I would overplay. Then I would listen to it and it would sound really dumb. Yeah it might have been a cool fill or a cool break, but it just breaks up the song and loses contact with the groove."
Wysocki's meticulous ear is a product of his diverse musical childhood. "I actually started out on the violin. That was my first instrument. My parents encouraged me to play music. I played sax and trumpet and trombone in school bands and I was always looking back at the drummer going, 'I want to do that!' When I was a young kid I used to bust on my mom's pots and pans and when I was five they bought me my first drum set. I was just one of those kids who was really hyperactive so I wasn't too focused on any one thing.
"I'm pretty much self-taught on drums, although I did learn rudiments from a teacher. Otherwise I would just play to a lot of funk like Stevie Wonder and Sly and the Family Stone, things with a lot of groove. Then came the rock and roll. I was a huge Kiss fan, then Led Zeppelin, the Beatles, and Van Halen. I was a huge Jeff Porcaro fan. He's such a solid player and his fills are so tasteful. John Bonham is like the king. Then you have a guy like Dave Weckl who is a fantastic groove player and a super technician at the same time."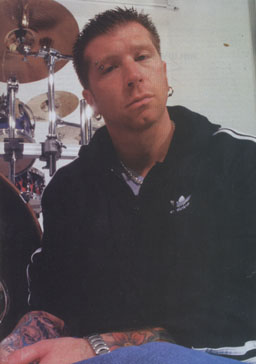 It doesn't stop at rock and roll. Wysocki has dabbled in fusion, something he plans to return to someday, and appreciates the many different styles of drumming. "I love funk and fusion. I played with Floyd Patterson Jr. [son of the famed boxer Floyd Patterson] and he's an amazing bass player. Playing with him I learned a lot about funk and fusion. You really have to lay back your groove when you play with him because he's so amazing. I would love to put something together like that someday. I really admire jazz players too. To me, I just don't seem to have the feel for it. I play heavy and I just don't have the touch and feel for jazz. But I totally admire it and it's amazing to see the guys who are really good at it."
When he wasn't busy with music, Wysocki was busy with crosschecks, slap shots, and power plays. It's easy to grasp where he developed his selflessness and sense of teamwork. "I was always into sports and I was a big hockey player. I went to private school basically for the hockey and the jazz band. I'll never forget the day I called my dad to tell him I quit hockey because I wanted to play music. He didn't talk to me for probably two years. [laughs] It's funny how things work out I guess. I have the size for hockey and that was my sport. That's why my dad was so upset that I quit playing hockey, because I did have the potential to go up." But dad's suddenly over his son's career change. Maybe it has something to do with Staind's debut album, Dysfunction, selling over a million copies.
In 1993 Wysocki was slumped over a beer at The Infinity — a live music bar in suburban Massachusetts — sharing inhibitions and aspirations with a guy named Mike. This was a familiar pose for the two musicians who talked ambitiously of one day forming their own band. That Mike turned out to be Mike Mushok, Staind's lead guitarist. When Wysocki got a phone call from Mushok saying he found a singer named Aaron Lewis (Staind's lead vocalist) the gig was on. Two bassists later and Johnny April completed the Staind sound.
Like all momentous occasions, Staind's future began in divine surroundings. "And we all met at a bar and put it together," Wysocki confirms. "We started out writing original material until we realized we would never play gigs doing that. In order to play out in our area you had to play cover songs. So we started playing a few covers mixed in with some original music." Their break arrived through a chance performance with Limp Bizkit when Fred Durst, impressed by the energy and musicianship of their act, invited Staind to his Jacksonville, Florida home to record a few tracks. Durst played the demos over the phone to Flip Records president Jordan Shur and, boom, record deal done.
Dysfunction hit the racks in 1999 followed by an extensive touring circuit supporting bands like Kid Rock, Monster Magnet, Sevendust, Korn, and of course label mates Limp Bizkit. With a platinum debut album and the fungal growth of their fan base, Staind wasted no time heading into N.R.G. Studios in L.A. to record Break the Cycle. "This album is more mature musically speaking," Wysocki says. "It's just the next level for Staind. We want to keep writing better records and keep getting better and expanding. We don't want to do the same thing over and over again or fall into any trends; we just want to be ourselves. Break the Cycle is a better record than Dysfunction across the board. I feel better about my groove on this one."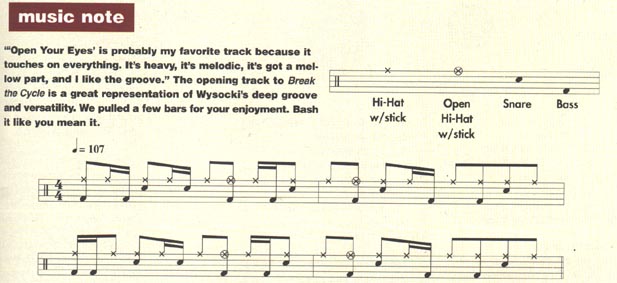 Break the Cycle finds the band settling into a comfort zone somewhere between heavy death rock and introspective acoustic rock ballads. It's a perilous territory of inevitable humiliation and failure, but these New Englanders pull it off. The early runaway hits "Outside" and "It's Been a While" are dark acoustic rips that certainly dazed Staind's early fans, but come as no surprise to the band. "Once Staind was formed, Aaron and I would jam around town as this little mellow acoustic thing where I would play with brushes or whatever. We actually did 'Outside' and 'It's Been Awhile' back then. That was over three years ago right before we got signed. So those songs are that old."
Team Staind used all the ice while creating the new album. "The main riff is usually written by Mike but as far as arranging the song goes, it's a full-on collaboration. When I'm writing my drum part I pay most attention to the guitar because sometimes it can get a lit­tle busy and I don't want to stomp on him. I want to make him sound better so I try and think for the song. These guys are professionals and they know what they're doing. We've all been playing for a long time and I just let it happen. As long as it's always us and it sounds like us, then I'm good with it. I think we have a pretty diverse band where we can write acoustic songs and then be right in your face with something heavy. I'm totally down with that. 'Open Your Eyes' is probably my favorite track because it touches on everything. It's heavy, it's melodic, it's got a mellow part, and I like the groove.
"I think drumming should be straight up drums without all the electronic stuff. Although there is one song, 'Epiphany,' that is a drum machine. I didn't even play on it. That was the last song written on the record and Aaron went down to Miami to do the vocal track and I didn't even go. I didn't even know it was happening to be honest with you. And it ended up on the record. But, I'm totally cool with that. If it works for the band and the record then I'm down with it. Just because I didn't come up with it is really no big deal to me."
The record was produced by Josh Abraham (Korn, Crazy Town) and according to Wysocki, "Josh brought a lot to the studio. He helped us get some great sounds and he brought a real relaxed vibe that made the studio a comfortable working atmosphere. He had a lot of great ideas. A lot of times they would work out and sometimes it didn't feel like Staind and we wouldn't do it. He sat down with me in pre-production and we went over where I was placing my fills and made sure we were happy with it. He took the time to focus on the drums."
And it shows. Wysocki's kick drum gives more thud than Louie Anderson high diving into an empty pool. "The drums I used were amazing. I used an old Gretsch drum kit with an Orange County Percussion kick drum. It's a long kick drum (22" x 20") and I think that's where I get that punch. It's set up with PowerStroke heads, an Evans EQ pad inside, and a flat felt-top beater. I used Ross [Garfield] the Drum Doctor and he really helped me out. I think we used a different snare on every song. We used three mikes on the snare, to pick up a nice loud crack. I like my snare drum really tight. I like my kick drum to have a lot of punch to it and my toms really natural and open — a very live kind of sound. Playing live I use clear Emperors on my toms and in the studio I used clear Ambassadors just to bet a brighter sound."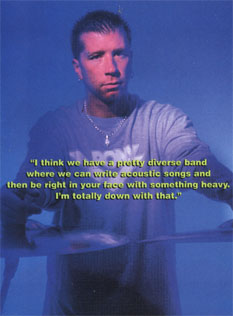 Staind's live show is the epicenter of their success. Their high-energy open-heart performances not only landed them a record deal, but also continue to inspire thousands of new fans. "We're just pounding as hard as we can when we're up there. That's the most important part of our day. Everything else can suck with your whole day and you get up there on stage and that's your time. People are watching you and it has to be right. I try to play live exactly like the record. My band gets pissed when I don't. Sometimes different things come out though, [laughs] "I'll kill myself when I'm up there [on stage] and not even realize it." So stamina and fitness are real considerations for the athletic thwacker. "I hit either the treadmill or the bike at least three or four times a week. And some very light weightlifting. I had some problems with my rotator cuff last year. I pulled it while weightlifting about three or four years ago and it came back last year while we were touring. I really struggled with it for a while. I had it looked at and it's healed up pretty good, but my arms still get a little sore. I do a lot of stretching before going on stage and I just moved up a stick size from 5A's to 5B's. I was trying to hit too hard and not getting enough power from the stick. It works out perfectly now."
Once the show gets started, surprisingly, it's usually every man for himself. "We don't really communicate much on stage. I thought it was weird when we first started, but everyone gets locked into their zone and it sounds tight. Hey, whatever works — and that seems to work for this band. We tape ourselves because we're critical of our performances and we always want to get better."
Part of getting better means practicing. Yes, even the touring pros take the time to concentrate on their craft and chisel those chops. Well, at least some of them do. Okay, most of them don't, but remember, Wysocki ain't the ordinary. "I just bought a V-Drum kit and I practice my chops on that. I definitely don't prac­tice Staind songs! [laughs] I work on different grooves that I can maybe use in different songs down the road. My playing plateaus everyone else's and to get out of that rut I'll go buy drumming videos and try to pick up stuff that they're doing and play it in my own way. Like I remember picking up a Dennis Chambers video and one by Gregg Bissonette. You get inspired by those guys because they're unbelievable. It gives you a different perspective and you can be creative again. And listening to CDs helps too. Right now I'm listening to Steely Dan's new album, the new Stereomud, and Tool — they're absolutely amazing.
"You can never be afraid to learn from someone else. You have to drop your pride sometimes. Just because you're a better player than someone doesn't mean you can't learn from them. Once you stop learning and you think you're the man, you're done. Because you're not the man. There's someone who is going to come along and kick your ass all over the place." A lesson no doubt learned from a crushing stick check in a lonely corner of the rink.
"We've learned so much from other bands' mistakes. And we've been really fortunate to be surrounded by really good people," says Wysocki of the band's admittedly good fortune. "A lot of times in this business you're pushed into things you don't want to do. The business is treacherous and it boils down to a money thing. Every band will tell you you're going to get screwed on your first album. It doesn't matter who you are, you're going to get screwed. It's just part of the business and there's really nothing anyone can do about it. But, whatever, you have to do it. You have to go through with the process. You have to make a first record and go on tour for no money and do photo shoots and do in-store appearances and meet-and-greets and some things you really don't want to do at the time. But you have to do it and it's all good. It's part of the job and it's something I've always wanted to do, so I really can't bitch about it."
The irony of the double-edged music business keeps many skeptics anxiously awaiting the ultimate demise of a quick rising band like Staind. "That's going to happen. There's a lot of jealousy out there and ultimately that's the way this business is too. You know, 'Here today gone tomorrow.' And we're fully aware of that. All we can really do is to not think about that and just keep writing music and doing what we do — being real to ourselves and being real to our fans. Hopefully we can hang in there as long as possible. We have so many other places to go and so many other songs to write. We have a lot of talent in this band and I think we'll stick around."
Springfield Massachusetts can't be that big of a town. Surely Wysocki made it to the tattoo shop by now. "Yeah, I'm getting this piece on my arm finished up. It's like this skull and flame thing. You know, your typical tattoo thing. I have all this other whacked stuff on my arm, so I thought I needed some skulls." Hey, why not?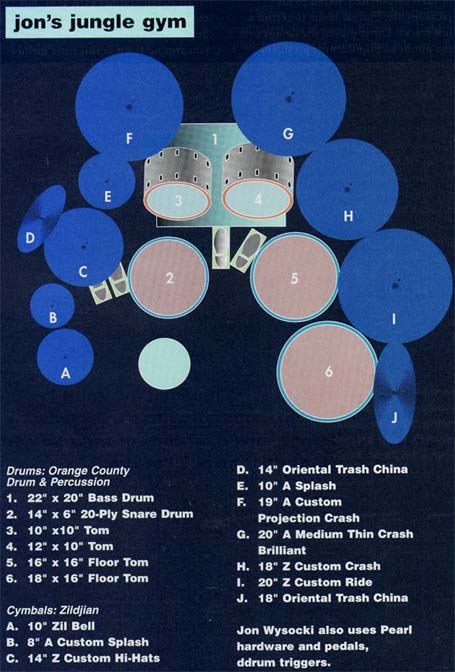 ---
Jon once had long hair...